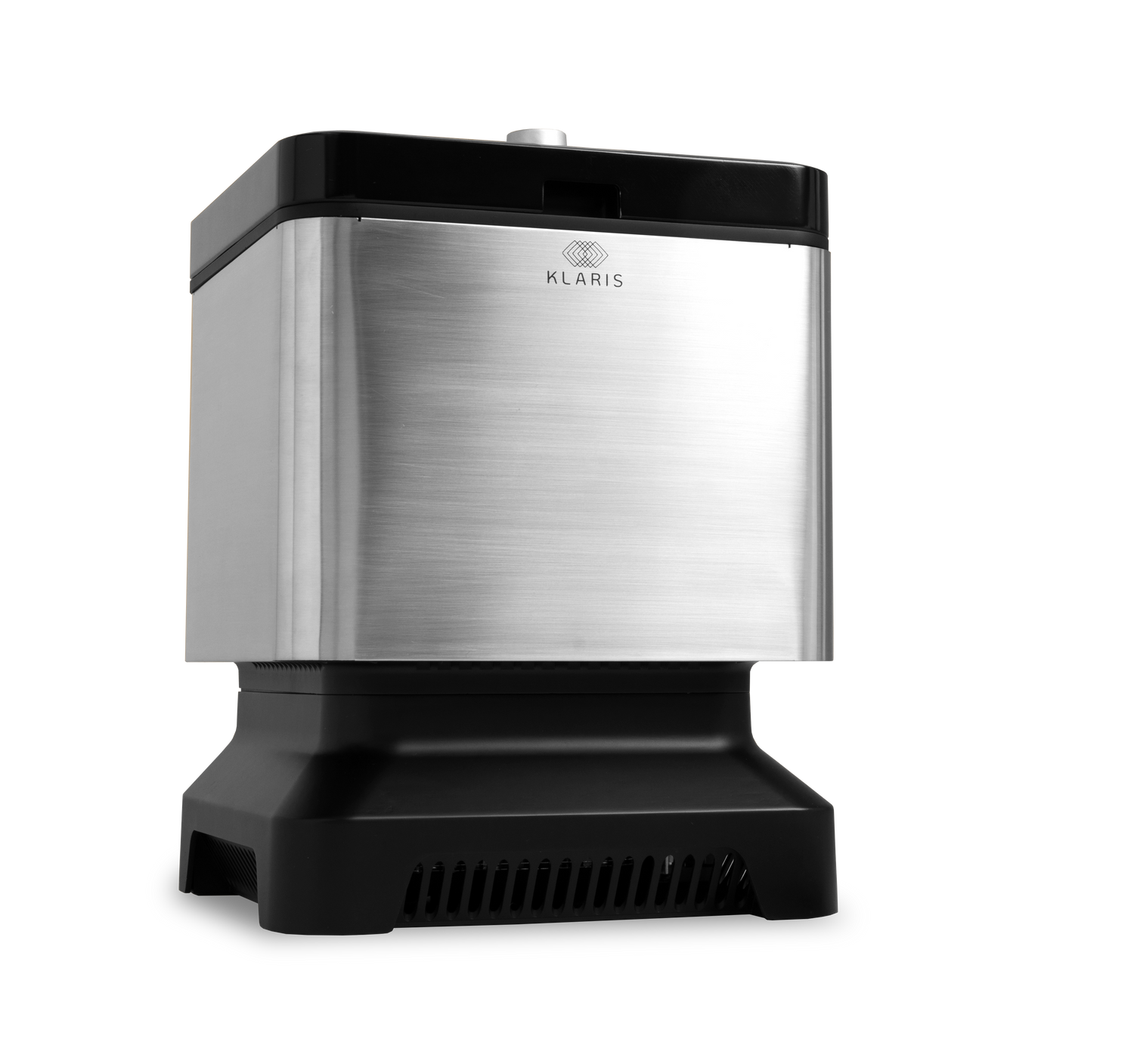 The Ultimate Ice Breaker
Klaris is a sleek, compact countertop device that elevates any setting. It's the first ice machine you will want to show off.
This is not just another ice maker or silicone mold. Klaris' patent pending design was engineered from the ground up for over three years.
✦ Re-usable tray enables up to 8 cubes/day
✦ Takes up only 0.75 sq ft of counter space​
✦ 4 temperature sensors control and maintain freezing process
✦ Machine status displayed via a ​0.96" OLED screen
Learn More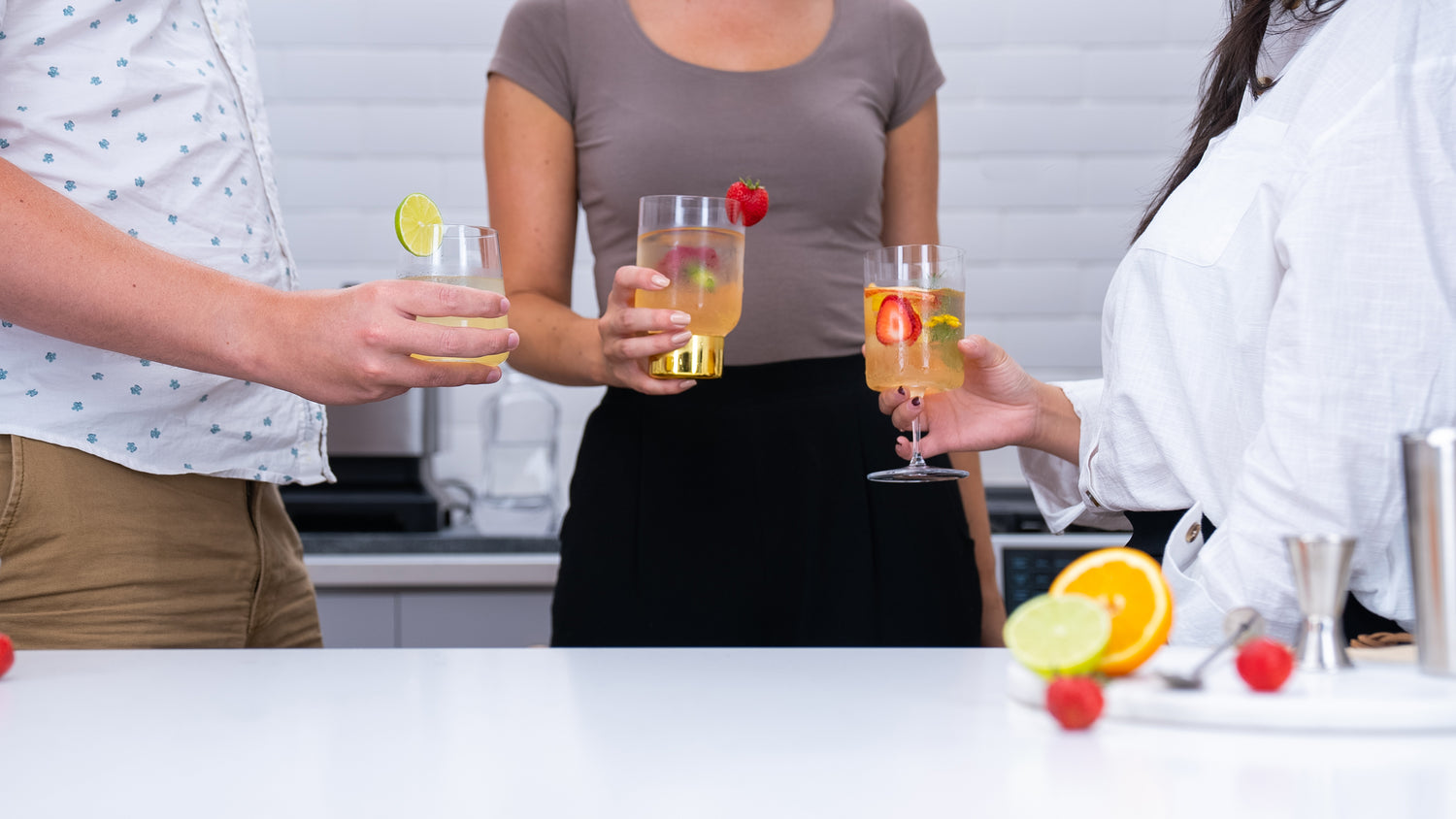 Elevate Entertaining with Ease
Take the time and hassle out of party prep. No freezer. No mess. Simply clear ice that can keep up with your daily ritual and weekly dinner parties. Klaris' simple and convenient process works around your busy schedule.
Shop Now
How it Works
Fill

Fill tray with water to line. Avoid under/over fill.

Place

Place tray in ice maker. Close and select run.

Freeze

Push knob to begin freezing. Return in 8-10 hours.

Remove

Remove tray from ice maker. Drain residual water.

Enjoy!

Push ice out of tray. Store extra cubes and enjoy!
Try our favorite recipes and show us yours on Instagram!

@craftklaris

Classic Negroni

1 Klaris Cube

1 ½ oz Gin

1 ½ oz Campari

1 ½ oz Sweet (Italian) Vermouth

Orange peel for garnish

Old Fashioned

1 Klaris Cube

2 oz Bourbon or Ry

1 tsp simple syrup

2 dashes bitters

Splash of water

Orange twist or maraschino cherry for garnish

Strawberry Lemonade Mocktail

1 Klaris Cube

2 oz freshly squeezed lemon juice

1 tsp sugar

1 cup water

Strawberry and lemon peel for garnish
Testimonials
Steve R
@steve_rodia
"After many years of trying several gadgets and tools to easily create crystal clear ice at home, I finally found a solution with Klaris. Not only is the unit attractive on top of your bar, it produces beautiful, optically-clear cubes from tap water in a cycle that you start with a simple click of a button. After using it for the past month, I think it's a home run"
Veronica G
@verngully23
"Very happy with my purchase and you know I'll be posting 24/7 and I'll be sending friends your way"
Alex T
@thomasalex3
"As someone who loves hosting and cooking, Klaris has allowed me to elevate my at home bar to new levels"
David S
"I keep my Klaris at the office. Coworkers and Customers are always impressed with the clarity of the ice when we have a drink during happy hour. I enjoy how easy the Klaris is to use and keep clean, even in an office setting!"
Stu P
"Klaris cubes make a special occasion out of any occasion"
Paul P
"I am letting you know some real time reaction to your ice cubes. I freakin' love it. Your cube of clear ice made a positive difference in my evening."
Featured collection
Regular price

$549.00 USD

Regular price

$649.00 USD

Sale price

$549.00 USD

Unit price

per

Regular price

Sale price

$15.00 USD

Unit price

per